Lights of Winter: Winter Celebrations around the World is a children's picture book about winter celebrations around the world: Solstice, Yule, Christmas, Kwanzaa, Hanukkah, Teng Chieh, Diwali, Soyal, Las Posadas, Zagmuk, Saturnalia. For ages 3 - 9. Thirteen color illustrations. 26 pages.
ISBN 978-0971242524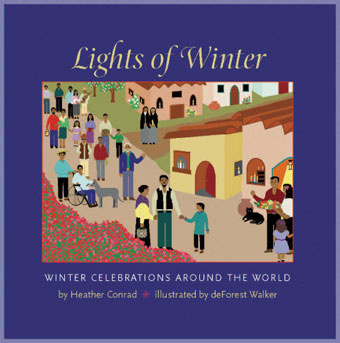 Purchasing Options
Amazon >>




Barnes & Noble >>
For wholesale and discount for booksellers, libraries and schools:
Ingram >>
Lesson Plans using Lights of Winter
Recomendations for Lights of Winter
"My cousin John works with international students at Lamar University at Beaumont and is always hosting parties with people from around the world. He invited me to an inspiring Diwali celebration that Indian students staged. It is the festival of lights. 'Lights of Winter' is a children's book that discusses holidays like this from Hanukkah and Kwanza to Las Posadas and Christmas. It's a heart-warming thing to show a child a book that celebrates people of the world. Heather Conrad wrote this Lightport Books release that deForest Walker illustrated with a cat and dog in every picture. That's another little touch that reminds us we're all the same. I love the last image of a backyard gathering with guests of several cultures. It looks just like a party at the home of cousin John and his wife, Uliana Trylowsky."
By Darragh Doiron
Port Arthur News, Port Arthur, Texas 10/25/02
"The author dedicated this book 'to David, and all the children of the world.' She begins by explaining that long, long ago there was no electricity for light and warmth. The short days and long, cold nights were scary, and the people thought the sun was angry with them. They held winter festivals to pray for the sun to come back and warm them. Conrad writes about these festivals from different places and times in history, with the stories accompanied by the colorful illustrations of deForest Walker. She takes the reader to the 'Zagmuk' festival of ancient Mesopotamia; the Hopi Indians winter solstice celebration of 'Soyal'; the African 'Kwanza'; the Jewish 'Hanukkah'; 'Christmas', etc. All these events feature lights, fire, candles. The focus of this book points out how people all over the world share a common need for light and warmth. Your children would surely enjoy this beautiful, informative book as a Christmas gift. An avid young reader I know will receive my copy of 'Lights of Winter'."
Roberta Page
Lebanon Daily Record, Lebanon, Missouri 12/8/02
"Este libro fue desarrollado pensando en ninos de tres a ocho anos de edad. Tiene trece ilustraciones en colores. Once dias festivos en invierno alrededor del mundo son ilustrados y descritos en lenguaje sencillo y claro para ser leida por pre-escolares y ninos hasta el tercer grado. Lights of Winter o Luces de Invierno presenta una explicacion sobre la Navidad en varios paises del mundo y muchas culturas diferentes. Las celebracions de los temas de luz y celebracion en los dias festivos de Navidad, Diwali, Hanukkah, Kwanza, Solstice, Las Posadas, Soyal, Yule y Zagmuk. Estos dias festivos vienen de diferentes culturas en Africa, China, Europa, India, America Latina, el Medio Oeste y las personas nativo amerricanas. Es un libro especialmente importante en un tiempo donde estamos mas pendientes de las diferentes culturas alrededor del mundo. No importa tu tradicion cuando el mundo esta oscuro y frio en el invierno es muy acogedor prender velas y luces y compartir la comida y los regalos con la famlia y los amigos. Son las fiestas mas alegres del ano. Heather Conrad, la autora es una madre y escritora que vive in el Norte de California. deForest Walker, la ilustradora es una artista y musico quien viven en el estado de Washington."
Lizette Collado
El Hispano News, Albuquerque, New Mexico 12/6/02