Joys of Spring: Spring Celebrations around the World is a children's picture book for preschool to 3rd grade. The story is told by a friendly parrot who flies around the world visiting 12 spring festivals on six continents. The spring celebrations are: Noruz, Passover, Gelede, Kolla Raymi Killa, Wattle Day, Sakura Matsuri, Chun Fen, Basant Panchami, Holi, Easter, Yancuic Xuithuil, and Earth Day. There are 13 color illustrations as well as activities for children, parents and teachers. A map of the world and a pronunciation guide for the 12 holidays are also included. 30 pages.
ISBN 978-0-9712425-9-3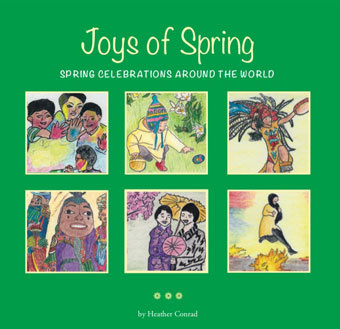 Purchasing Options
Amazon >>




Barnes & Noble >>
For wholesale and discount for booksellers, libraries and schools:
Ingram >>






"Opening a book is like the opening of a blossom - such potential lies inside. Joys of Spring by Heather Conrad is a small book with a big message.
An ambitious parrot narrates a journey around the world to discover traditions in many cultures for celebrating nature's springtime display of life and new beginnings. In both easy-to-read text and child-friendly illustrations, the author describes how people everywhere indulge their spring-fed energy with bright colors, special foods, and lively outdoor activities. This book is a gentle reminder of the powerful link between humans and nature.
Included at the end of the book is a list of questions to prompt discussions about the common elements among these multicultural traditions.
In sharing this nonfiction book with children, I would pair it with Frederick by Leo Lionni, a tale about anticipating spring's potential."
By Ruth Nelson
Ruth Nelson has been an elementary school educator in the San Francisco Bay Area for forty years. Her focus has always been on language arts instruction. She enjoys a passion for children's literature and has had many opportunities to share books with students, including ten years at one school as both a teacher and librarian. She is especially proud of guiding classes in their participation in the California Young Reader Medal program.
"Joys of Spring captures shared experiences of celebrating the coming of spring among cultures throughout the world: A valuable resource for starting children on the path to exploring global diversity."
By Ruby Takanishi
Former president of the Foundation for Child Development, New York City